Raahaa sanat (Drag the Words) on helppokäyttöinen H5P-tehtävätyyppi. Jos sinulla on tehtävään vaadittava teksti tai idea valmiina, ei tehtävän tekniseen toteutukseen Moodlessa montaa minuuttia mene.
Tehtävän lisääminen Moodleen
Mene omaan Moodle-työtilaasi ja laita muokkaustila päälle. Paina "Lisää aktiviteetti tai aineisto" -painiketta ja valitse H5P. Etsi avautuvasta valikosta Drag the Words -tehtävätyyppi.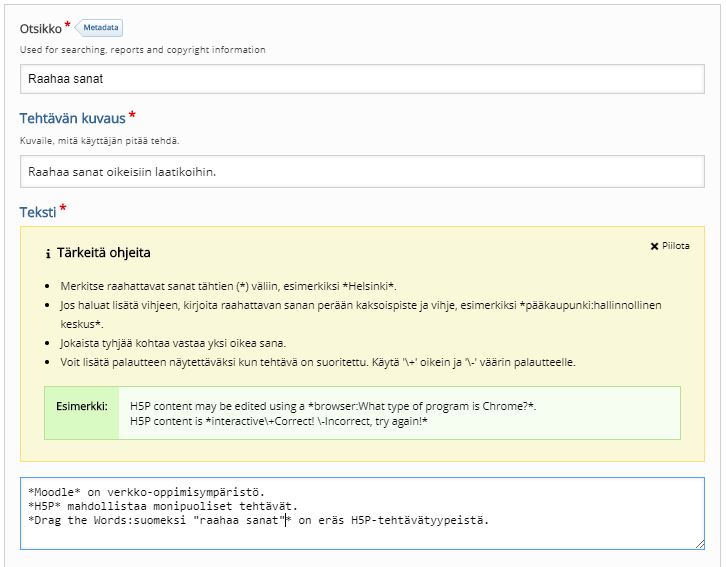 Raahattavaksi haluttavat sanat laitetaan tähtien (*) väliin ja oikeastaan mitään muuta ei sen jälkeen tarvitse tehdäkään kuin tallentaa tehtävä. Jos haluaa, tehtävää voi helpottaa kirjoittamalla raahattavan sanan perään kaksoispisteen ja vihjeen.
Huomioitavaa
Vaikka raahattavien sanojen lisääminen on yksinkertaista, kannattaa niiden määrä pitää kohtuullisena. Jos sanoja puuttuu paljon, on koko tekstin ymmärtäminen haastavaa.
Jokaisella tyhjällä laatikolla voi olla vain yksi oikea vastaus, joten sellaisia tehtäviä ei kannata tehdä, jossa sisällön puolesta sanat sopisivat useampaan kohtaan.
Lisätietoa
Esimerkkejä muista H5P-tehtävätyypeistä löydät Tredun Moodlesta löytyvästä H5P-vinkkejä-työtilasta (pääsy myös vierailijana) tai osoitteesta h5p.org.